Electric side door Opel Vivaro 2020-... (auto stop function, auto door opener)

Make/model
:
Opel, Vivaro (2020 - ...)
Deliveru
— In the composition of the New Mail
— Pickup
— Shipping address
Payment
— Cash on receipt
— LiqPay (Visa / Master Card)
— Privat bank 24
Guarantee
— 14 days for exchange / refund
— Manufacturer's warranty
Description
Manufacturer: Turkey (factory supplier of Volkswagen and Mercedes)
Mechanism type: rack and pinion
---
Main characteristics:
- simplicity of design;
- control of the entry and exit of passengers from the car; - setting the sensitivity of the obstacle;
- minimal installation time;
- versatility;
- automatic control of obstacles;
- during a breakdown of the car's power systems, the door goes into manual mode of use;
- reinforced wiring - no more need to deal with constant repair of the power supply of the mechanism, everything is done according to factory standards.
---
Below we tried to graphically depict the main difference between mechanisms of another version of the same manufacturer: from the main differences, the size of the mechanism itself is obvious, and also the lever (reset from the rail when the door works autonomously) has been moved from the side to the bottom, thus there are more problems with the fit / disembarkation of passengers with touching this lever should not occur.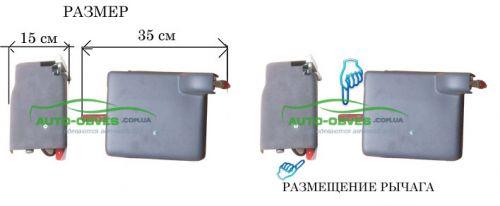 Equipment:
mechanism
Control block
wiring
open / close button and keyfob
fasteners
rail
installation diagram
---
Specifications:
1. Power consumption, W - _ W
2. Time to open the door - 7.5 sec
3. Door closing time - 7.5 sec
4. Intensity of work - 300 cycles / day
More
Additional features
Mechanism type:
Rack and pin
Mounting rail:
To the door card
Mounting mechanism:
To the door pillar
The mechanism inside:
Bosch firms
The door lock:
Do not dismantle (only the bracket)
Open the doors with:
Button, key fob
Ще не додано жодного відгуку. Будьте першим, хто це зробить.