Hood deflector Lexus LX470 (Vendor code: vp001-240)
Make/model
:
Lexus, LX-470 (1998 - 2007)
Deliveru
— In the composition of the New Mail
— Pickup
— Shipping address
Payment
— Cash on receipt
— LiqPay (Visa / Master Card)
— Privat bank 24
Guarantee
— 14 days for exchange / refund
— Manufacturer's warranty
Description

Manufacturer: VIP Tuning (rf)
Hood deflector material: high quality organic glass. The color of the fly swatter is dark. Deflector width - on average 9 cm (design features). The thickness of the plastic is 2.5 mm.
Equipment:
| | | |
| --- | --- | --- |
| Deflector VIP Tuning - 1 pc. | Mounting kit (clips) | Installation diagram |
| | | |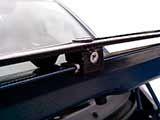 The hood deflector performs several functions at once - aerodynamic, protective, aesthetic. The way to install the deflector is on clips. This deflector is designed to protect the hood and windshield from chips. The difference between these hood deflectors in comparison with more expensive options in the presence of a bend, which directs the air flow in a certain swirl, helps to protect the windshield. From the aerodynamic side - no extraneous noise is observed. The functional operation of the deflector can be illustrated as follows:

Hood deflector installation instructions:
1. Open the hood of the car;
2. Remove the protective polyethylene film from the deflector;
3. Assemble the clips according to the figure.
4. Install the deflector on the hood so that the edge of the hood goes into the lower bend of the brackets and align the fly swatter with the edges of the hood;
5. Tighten the screw on the deflector bracket from one edge of the hood;
6. Pull in the opposite direction so that the deflector straightens along the edge of the hood, then tighten the remaining винты.
More
Additional features
Mounting method:
On the clamping clips
Material thickness:
2.5 mm
Ще не додано жодного відгуку. Будьте першим, хто це зробить.