Side window deflectors for Hyundai Sonata

Make/model
:
Hyundai, Sonata VI (2010 - 2014)
Deliveru
— In the composition of the New Mail
— Pickup
— Shipping address
Payment
— Cash on receipt
— LiqPay (Visa / Master Card)
— Privat bank 24
Guarantee
— 14 days for exchange / refund
— Manufacturer's warranty
Description

Manufacturer: SIM (Barnaul)
Deflectors of windows (visors) are made of high quality, adapted to the external environment, acrylic glass. The width of the deflectors is on average 7 cm (design features).
Complete set: Visor - 4 pcs.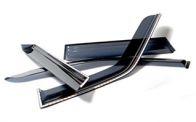 Black color.
The design fully corresponds to the dimensions of the car door frame.
Installation of "visor" does not take much time.
The way of attaching the deflectors is gluing on double-sided tape.
The main functions of window deflectors: to provide comfort to the driver while driving, protecting from side wind and rain.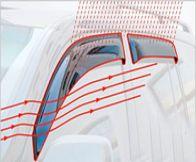 How to install SIM door deflectors:
- degrease the door frames, mark the deflector attachment;
- release the tape from the protective film on the inside of the deflector;
- install the deflector according to the marks;
- provide a strong short-term pressure along the entire length of the deflector.
More
Additional features
Mounting method:
On a double-sided tape
Material thickness:
2.5 mm
Features:
Heat-resistant, durable
Ще не додано жодного відгуку. Будьте першим, хто це зробить.