Universal jumpers Bmw 3 Series E92 Coupe 2006-2013 on the roof without roof rails





Make/model
:
BMW, 3 series Е90 (2005-2012)
Deliveru
— In the composition of the New Mail
— Pickup
— Shipping address
Payment
— Cash on receipt
— LiqPay (Visa / Master Card)
— Privat bank 24
Guarantee
— 14 days for exchange / refund
— Manufacturer's warranty
Description
---
Material: Crossbars made of high quality aluminum profiles; tips: plastic; stiffeners - yes. The thickness of the aluminum sheet is 3 mm. The width of the cross member is 7.5 cm. The load capacity of the luggage system is up to 65 kg. The length of the package is 170 cm.
---
Important: before installation, you need to cut to the desired length, since these jumpers are supplied in only one size - 144 cm! The main difference from similar models on our website is the modified clamping bracket - the lower clamp was changed from metal to plastic, additional stiffeners were added, a lock was installed, the main function of which is to protect the jumpers from theft.
---
Equipment:
| | | |
| --- | --- | --- |
| | Mounting kit (brackets, elements) | Installation diagram (for a specialist) |
| | | |
---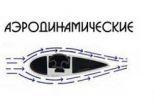 The crossbars are designed to meet all aerodynamic requirements, which means that no extraneous noise is observed during movement. It is necessary to fasten the jumpers (as shown in the figure on the left) - with the thin side in the opposite direction of movement (thick on the front!). These jumpers are multifunctional: they are suitable for attaching aeroboxes, skis, bicycle racks. You can also load various oversized loads on them, but do not forget for the permissible load (indicated in the passport).
Please note: these jumpers do NOT fit on integrated roof rails!
---
More
Additional features
Cross member material
Aluminum
Mounting bracket material
ABS plastic
Purpose
For transportation of skis, aeroboxes, bicycles
Mounting type
On the regular places in the roof
Universal size
Need to cut the bar
Ще не додано жодного відгуку. Будьте першим, хто це зробить.