Floor mats Peugeot Partner 2015-... 4 pcs (Vendor code: sting0014-074)



Make/model
:
Peugeot, Partner (2015 - 2018)
Deliveru
— In the composition of the New Mail
— Pickup
— Shipping address
Payment
— Cash on receipt
— LiqPay (Visa / Master Card)
— Privat bank 24
Guarantee
— 14 days for exchange / refund
— Manufacturer's warranty
Description
Material of rugs: high quality rubber. The color of the rugs is black.
---
The main characteristics of car mats: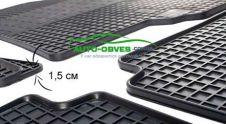 - the presence of special standard mounts (in certain models) or spikes for anti-slip inside the car;
- the presence of so-called foot pads on the front mats - for a longer service of the offered products - in the places of contact between the heel and the mat;
- the height of the side of the mat - 15 mm - protects the floor of the car from moisture ingress, contributes to the retention of melt water in winter.
---
These mats are premium (odorless). The presence of a special relief pattern allows you to retain a significant amount of moisture, especially in winter, and allows you to quickly get rid of dirt and dust. Easy to wash (contactless) Also, some car mats have their own standard mounts (if provided in the car), otherwise there are anti-sliding spikes on the inside.
More
Additional features
Variant of execution:
Model, repeat the shape
Features No. 1:
Flavourless
Features No. 2:
Anti-slip spikes
Compatibility:
Peugeot Partner 2015-… 4 pcs
Ще не додано жодного відгуку. Будьте першим, хто це зробить.